Chicago has been known for its variety of bubble teas. Bubble tea originated in Asia, specifically Taiwan, and these colorful drinks with tapioca come in a variety of flavors and styles that are perfect for any season and can suit anybody's taste. We decided to review four popular bubble tea places that have been gaining popularity on social media and were recommended by friends.
Bearology - Madisen Anderskow
Bearology has recently been all over TikTok. I just had to go try it and see what all the hype was about.
There are only Bearology stores in Illinois and California. The only spots in Illinois are in Champaign and Scha- umburg. There was a grand opening in Schaumburg on Jan. 30 and 31. The lines for this place are insanely long almost every day.
On Feb. 20, I went to Bearology for the first time and there were 20 people in line before me. Only 10 people were allowed in the building due to COVID-19. The line moved fairly quickly, but more and more people showed up behind me.
I tried the Huckleberry Lemonade Tea, which seemed to be a popular choice for people that day. It has huckleberry syrup with lemonade and butterfly-pea extract. I added aloe vera cubes to it and it was delicious, it tasted like heaven. I'd defi- nitely go back, but their prices are very expensive, so it wouldn't be an everyday place. Their most expensive drinks are the shimmering drinks at $9.
Liquid Fusion
 Liquid Fusion is another popular place. There are locations all over but the closest is in Northbrook. My sister and I go there all the time and there are always people in there. I've tried a lot of products on the menu, but my favorite is the Fruit Freeze with mango, peach and strawberry boba. They also have tapioca, not just boba. All of their drinks are like a burst of flavor when you take a sip. 
I really recommend going to either of these places. No way anyone will regret going.
 Brew Lounge - Alexis Santiago
Brew Lounge is a small coffee and bubble tea place that is located in Des Plaines. Brew Lounge is one of the places that has gotten huge on TikTok due to its unique flavors and drinks that they offer. What made me want to really go there was to try their Filipino fused drinks like the Ube Latte and Calamansi with Lychee Jelly.
Arriving at the location, I was confused on where it's located because there wasn't a huge sign to show where it is. I got a little skeptical at first because I thought I was at the wrong place due to it being small. When more teens and adults are seen going into the building, that's a sign that this is the right place. The scenery of the place is very chill, and it's the perfect place for students to study or chill with their friends during their free time.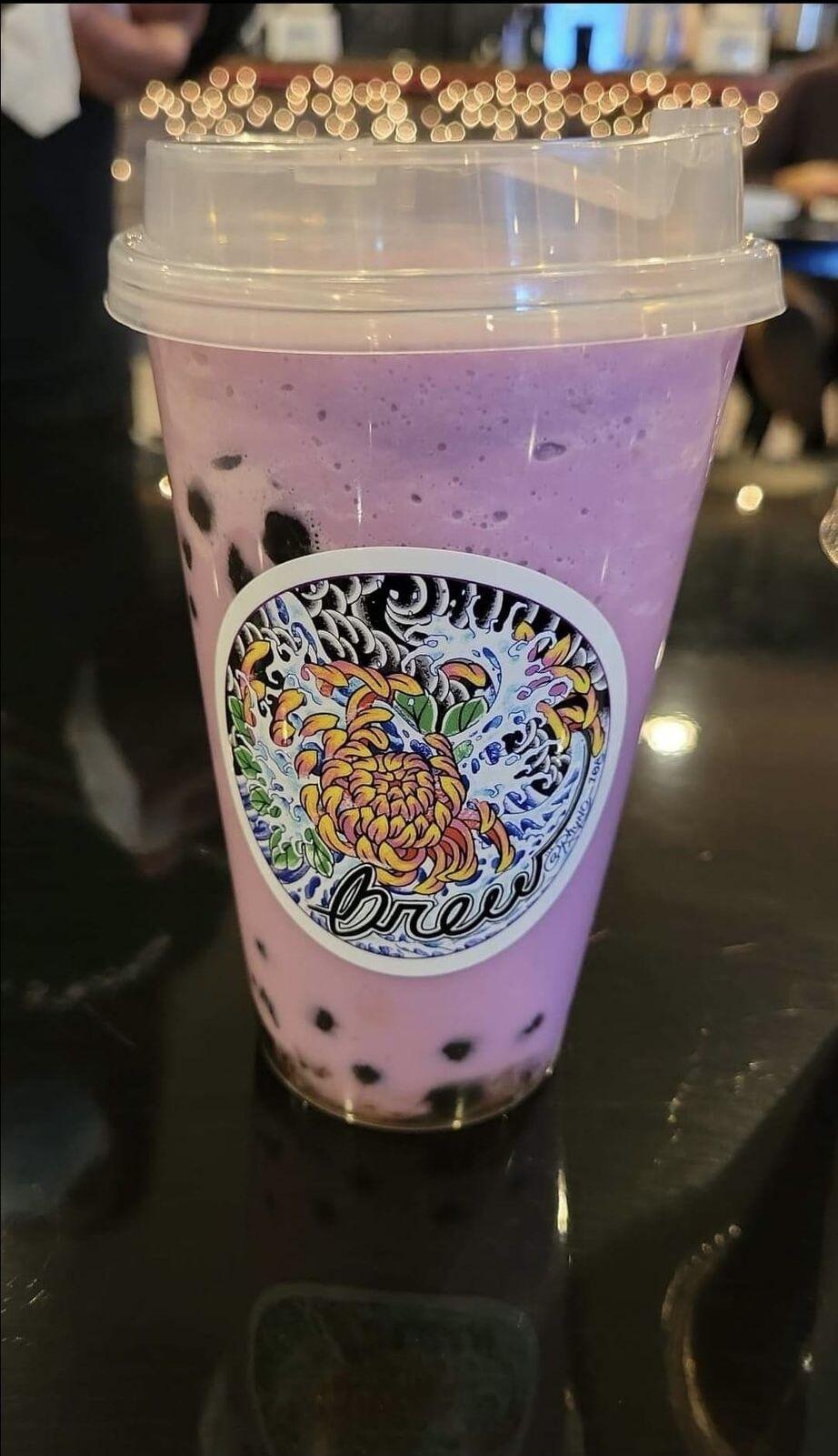 The first item I tried is their Ube Latte. Ube is a Filipino dessert made from crushed boiled purple yam. It can be used as a cake flavoring or as an ice cream flavor, but as a latte was something I've never seen before. Ube isn't that sweet, so I wasn't sure if it would provide much flavor to the drink since espresso is supposed to be somewhat bitter tasting. 
The next item that I got was the Calamansi Lychee Jelly. Calamansi is kind of like a hybrid of lime and lemon that is native to the Philippines. It's usually used for cooking or making dippings sauces, but mostly it's a drink that you would get. This was my favorite drink out of what I bought since I really like Calamansi juice and it was my go-to drink when I was in the Philippines. Their drink wasn't too sour and it wasn't too sweet, unlike some branded drinks that would have their calamansi too sour or too sweet. Also, the lychee jelly was really chewy and good, but as a Filipino who loves calamansi, it would be better if they used coconut jelly since that's another popular dessert in the Philippines. 
The prices for the drink weren't too expensive since it's mostly just coffee and bubble tea. Overall, I think this place is worth it but personally, I wouldn't go there all the time as a regular to get a bubble tea drink, but I still would like to try more of their drinks in the future.
 Kung Fu Tea 
Kung Fu Tea is another bubble tea place that has already established its popularity here in Chicago with most of its locations being in Chinatown and Evanston. However, they recently decided to open another location in Rolling Meadows.
Since this place was recently just opened, they were having a buy one get one free promotion on certain drinks throughout the weekend. The first drink I got from the promotion was the Cocoa Cream Wow with a milk cap. This drink was basically milk with cocoa powder and tapioca. I was disappointed in how it wasn't very sweet even though I mixed the syrup thoroughly. In the end, it just tasted like whole milk. However, I found out that customers are able to customize the sweetness of their drinks or the type of milk. If I were to order this drink again, I would probably ask them to make it extra sweet.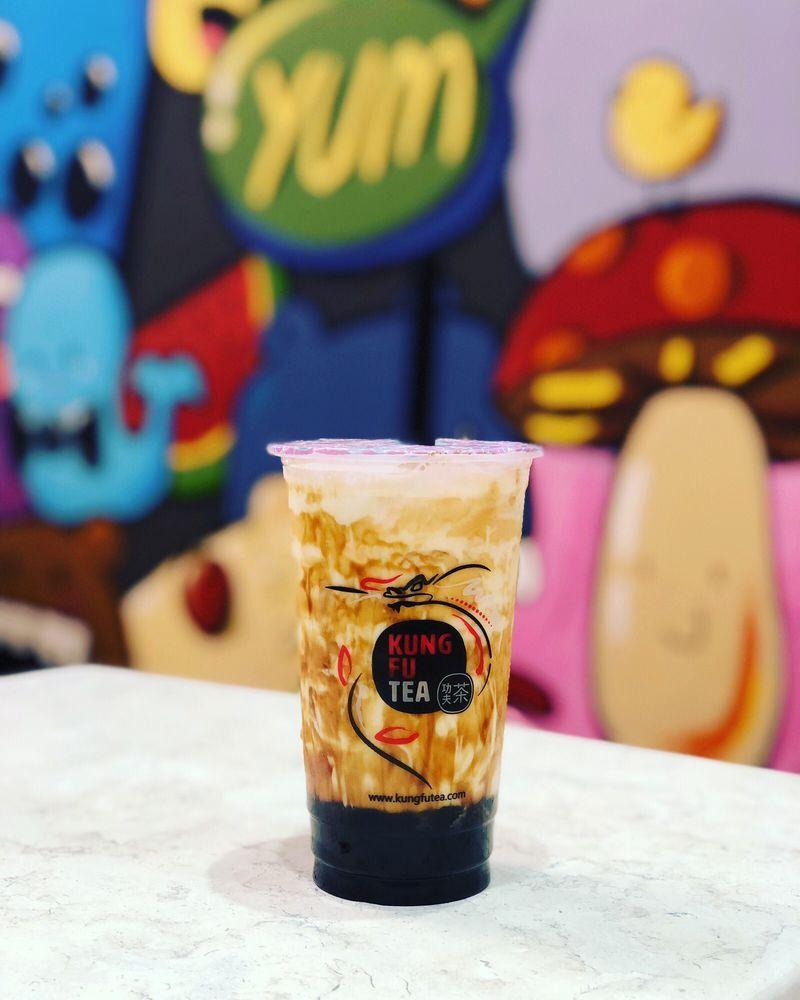 The last drink that I got that was also part of the promotion was the Mango Iced Green Tea. Personally, like the last drink, I would've asked them to make it extra sweet. I don't usually drink a lot of green tea, so this was very new for me to get. 
However, with both of these drinks, I really do love their tapioca and I would ask for extra with my drinks next time. Their tapioca is very soft and chewy, but also, most importantly, it has this sweet flavor to it that helps add to the drink especially if it doesn't have much flavor.
One thing to think about with Kung Fu Tea is that there are many different locations, so each place makes its drinks differently. People's opinions can vary depending on where they go. However, with their huge selection of drinks, teas, and slushies, I will be going back to try more of their drinks (and also to hopefully earn more points to get a free drink).