With all students returning to school in-person for the 2021-2022 school year, it can be noticed that some students are coming in sick. But how do students and the nurse differentiate whether it's just a common cold or if it's COVID-19? 
I've been noticing that a lot of my friends have recently been catching "colds" lately, and I would always become slightly paranoid and worried. The thought of it being COVID would always cross my mind, and I guessed my worry was apparent because, soon after saying they were sick, they would follow by saying, "Oh, don't worry though. It's just a cold." I couldn't help but wonder, "How do you know for sure?"
The procedure of sending a student home has only slightly changed from last year. "When someone comes into the office and complains, every student is looked at on an individual basis. We check for their temperature, a new onset or severe headache, shortness of breath, a new cough, a sore throat, vomiting, diarrhea, new loss of taste or smell, fatigue from an unknown cause, or muscular body aches from an unknown cause. Any of those symptoms that are present for longer than 24 hrs should be sent home," Nurse Julie Denson said. Most of these symptoms would be enough to be sent home in the previous year as well, except for the addition of a runny nose.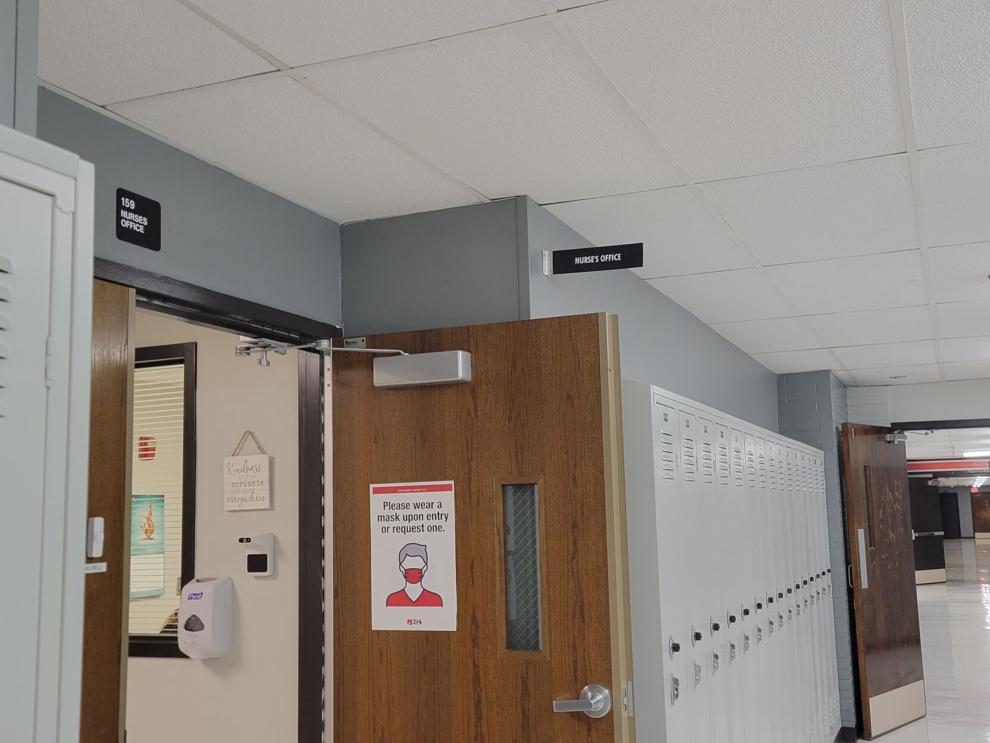 Despite the very similar symptoms of COVID and a common cold, some students still come into school thinking that they just have a cold. The safest thing to do is to take a COVID test as soon as possible, even if it feels like a common cold as senior Nicole Stoicescu did.
"I knew it was a common cold because I've had sinus colds before and I had the exact same symptoms, but I did a test [for COVID]  just in case," said Stoicescu. 
But even though student's don't have COVID, having a cold in school this year has been a struggle for students. 
"I had to hold in my cough and sneezed a lot because I was scared I was gonna get judged," senior Natalia Reyes said.
"It was kinda miserable for me because I literally couldn't breathe with the mask. My nose was always runny, and it was just hard because a lot of my classes didn't have tissues , so I had to bring in my own. I also just felt the judgement from my classroom," Stoicescu added.
Both students knew that they didn't have anything that would be spread to their classmates, but other students didn't know that, making them quick to judge. After having spent so much time in this pandemic, many students are now quick to judge their fellow peers at any slight sign of sickness. 
"I think that the district's doing a very good job getting students back in the building based on the CDC [Center for Disease Control and Prevention], the Illinois School Board of Education, and the Cook County Public of Health. I think that we're doing everything possible to keep students as safe as they can be in the building, but students also have to know that they have to take responsibility too. They need to wear their masks; they need to get vaccinated if they are eligible and parents give permission and keep their distance. I know they haven't seen  their friends in a while, but not hugging them and not sharing water bottles is really very important. Students are here 6-8 hours a day, but they're also out at home and are doing things not monitored by the school with the masking and stuff like that. Behaviors outside of school are directly going to affect students inside of the school. Something you do outside of school could still put risk on people inside of school so I think we have to be very aware of any ongoing trends that we see or things that are causing upticks in the cases of COVID," Nurse Denson added. 
Denson assures that the school and the district are doing all that they can to make sure that students and staff are as safe as they can be while they're in the building. But students also have a big role in making sure that everyone stays safe as Nurse Denson described. Not only do students have to be aware of our actions in school, students have to be cautious outside of school as well. 
This year is going to be tough for everyone, especially with the fall season just beginning. There are a lot of factors we have to be cautious and aware about. This requires everyone to take responsibility and follow COVID-19 protocols as announced by the CDC. The pandemic is sadly not over yet, so we all have to take extra care to stay healthy this season. Nurse Denson asks all students to "please get vaccinated if you haven't been vaccinated, social distance as much as possible, wear your masks, and wash your hands." And as a final reminder, if you don't know if it's a cold or if it's COVID, stay home, quarantine, and get tested! Be responsible, and keep yourself, as well as others safe!